How We Invested Your Harvey Donation
Bands of heavy rain started to hit Houston on Saturday, August 26, 2017. We saw the physical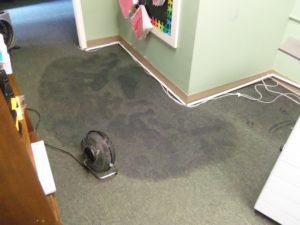 devastation and witnessed shattered lives in subsequent weeks as the financial, emotional, and health-related tolls were great. Christian Community Service Center's facilities were not spared: the main campus flooded for the third time in two years. And yet CCSC remained committed to serving clients despite the storm's impact on us.
By August 31, both Emergency Services sites were open and running. Operations were modified to quickly serve as many people as possible.  We immediately focused on food, clothing, and other basic needs, helping more than 2,400 households in those first two weeks.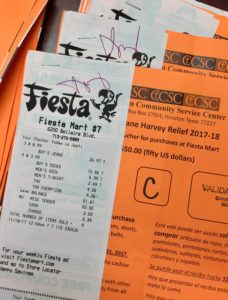 In weeks that followed, we added layers of assistance. Hearing that many clients lost wages and/or their mode of transportation to work, Emergency Services doubled the maximum amounts offered for rent and utility assistance. We helped clients like "Jody," a single mom of two who lives with multiple sclerosis. When her home had water damage, she lost furniture, mattresses, and more.  On a fixed income, the added expenses seemed overwhelming, but CCSC's assistance paying her December rent helped her regain traction and stability.
Next, CCSC leveraged its existing relationship with Fiesta Mart, our vendor for Back To School uniform vouchers, setting up a system to help flood victims with clothing.  Families who had been impacted were able to replace coats, work boots, scrubs, undergarments, and other needed apparel items with these resources.  In all, 743 families received this respite.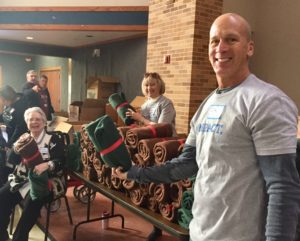 Then, at Jingle Bell Express, we provided a bonus to each of the 888 families who attended the event: a plush blanket for battling the unusually cold weather.  Many of these families were without bedding due to storm losses.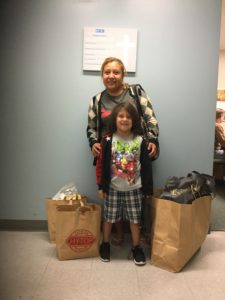 Finally, CCSC partnered with two schools on the east side of town.  Robinson Elementary was completely flooded and evacuated, so Pleasantville Elementary housed half of the Robinson student population for the fall semester.  CCSC was able to provide academic supply kits to 913 students from these campuses so they could begin the spring semester with the necessary tools.
Donors in the CCSC community were incredibly generous, providing financial support so we could ramp up these additional services.  Community members brought in diapers, cleaning supplies, and more.  Former clients reached into their wallets and made donations.  As we continue to assess how CCSC can help with long-term recovery, we remain grateful for the way our community came together in the wake of the storm.